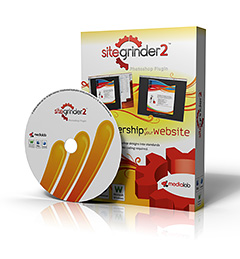 In a recent podcast on setting goals, I mentioned that 2009 might be the year you finally publish that great photography web site you've always wanted to have. Or if you have a site, but it's long in the tooth and not what you want, then this could be the year to give it a major face lift. I think web sites are important for photographers of all levels. They serve as your showcase so people can find and enjoy your work.
Designing a beautiful site can be much easier than you think. And it doesn't have to be based on some template that thousands of other photographers are using. Today I'm going to introduce to SiteGrinder. It's a Photoshop plug-in that takes your ideas and builds the site for you. I've been exploring the product for a few weeks now, and I think you're going to like what you discover. In a nutshell:
"Media Lab's SiteGrinder 2 plug-in converts Adobe Photoshop into a powerful, intuitive website development system that makes it easy. SiteGrinder 2 and Photoshop are everything you need to create gorgeous websites that look exactly like your Photoshop designs. With the click of a button, SiteGrinder 2 effortlessly transforms Photoshop files into professional quality, CSS-rich webpages. SiteGrinder 2 gives complete control over every aspect of your website's design and functionality ... all without leaving Photoshop. SiteGrinder 2 writes the HTML, CSS and other web programming code so you don't have to."
Over the course of the next few months, I'm going to show you the ins and outs of SiteGrinder. But first, I want you to have a solid introduction. So here are a few things to look at now.
SiteGrinder works with Photoshop 7 and newer on both Mac OS X and Windows. And if you're not a Photoshop user, but have Photoshop Elements 3 or newer, SiteGrinder works with those host applications too. You can buy either the Basic ($129) or Pro ($349) version. Here's a Comparison Chart that shows you the feature differences.
And finally, if you'd like to see some sample sites created with SiteGrinder, peruse the links on this page, there's some fun stuff to look at.
In the next installment, I'll talk more about how to set up your Photoshop document for SiteGrinder conversion.
---
-
---
Technorati Tags: Adobe Photoshop, Derrick Story, digital photography, SiteGrinder