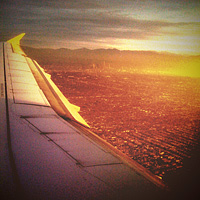 Your smart phone is the camera you always have with you. And thanks to many innovative developers posting great software in the Apple App Store, the iPhone is becoming a compelling photographic device. Not only can you capture spontaneous images with it -- shots that you might otherwise miss because you didn't have a camera with you and ready to shoot -- but you can also process them on the spot, then send them to others.
In this podcast I discuss the power and versatility of this device. For example, the image here, "Sunrise Over LA," was taken with the iPhone through an airplane window as the sun was rising. I then creatively processed the shot in Photo Lab 1600 (an iPhone app), and emailed it when we landed.
The iPhone isn't going to replace any of the cameras you already have, but you should use it when they aren't available, or when you feel the creative juices flowing.
"Sunrise Over LA" by Derrick Story. Captured with a first generation iPhone and processed with Photo Lab 1600.
Monthly Photo Assignment
Sign of the Times is the March 2009 Photo Assignment. So many things are changing right now. This is a good opportunity for us to capture these signs of the times in our camera lens. You can read more about how to submit on our Submissions page. Deadline for entry is March 31, 2009.
Listen to the Podcast
Now that I've piqued your curiosity, it's time to listen to today's audio show titled, "iPhone as Your Grab Shot Camera." You can download the podcast here (26 minutes). You can also subscribe to the podcast in iTunes
The Digital Story podcasts are available for direct download from Apple iPhones. I've created a special mobile download page here. Just load the page in Safari, browse the podcast line-up, and click on the one you want to listen to.
Want to share photos and talk with other members in our virtual camera club? Check out our new Flickr Public Group. It's a blast!
iPhone App Reviews
FotoTimer Provides Self-Timer for the iPhone
HP iPrint App Makes Printing Easy from iPhone or iPod touch
True Photo App for iPhone: CameraBag
"Exposure" (Now "Darkslide") Puts Flickr on Your iPhone
---
-
---
Podcast Sponsors
SiteGrinder lets you take ownership of your websites. Effortlessly output pages right from Photoshop.
Red River Paper -- Try the $7.99 Sample Kit.
Add Magic to Your Slideshows -- FotoMagico presentations are so amazing that your audience will be asking how you did it.
---
Technorati Tags: digital photography, podcast, technique, Technology, The Digital Story, tips