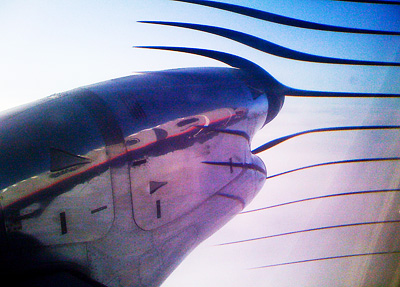 I'm always fiddling with my iPhone camera when I fly. This morning, as I was heading out of San Francisco on a twin-engine turbo prop plane, I was snapping pictures through the window to pass the time. As we rose above the clouds, this shot caught my eye because of the weird phenomenon that appears on the right side of the frame. These ribbon-like lines were visible on the iPhone screen and were recorded when I took the shot. I took two other frames and got the same effect.
My guess is that they were created because of the angle of the lens, through double-pane glass, with the sun at just the right angle. But I don't really know what caused them. Unlike other optical aberrations, these ribbons are so distinct.
The interesting part is that they are pretty in a odd sort of way. If anyone has a theory as to how they were created, please add a comment at the end of this post.
"Turbo Prop Engine with Ribbon Lines" by Derrick Story, captured with an iPhone.
---
-
---
Join me on March 28 for "How I Did It" - A Workshop in High-Impact Photography
---
Technorati Tags: Derrick Story, digital photography, Technology, The Digital Story, iPhone