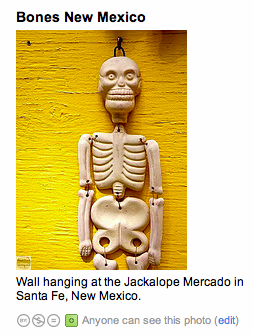 Since permissions are so easy to change on Flickr, I recommend that you manage them as part of your workflow. This is particularly handy when you upload images from an iPhone, EyeFi card or other mobile device where you don't have a chance to fine-tune the editing before transfer.
In these instances, set the permission to "Only You (Private)" during upload. Once you get to a computer, then you can use Flickr's online editing tools to adjust the image the way you want. That most likely includes cropping, exposure, color balance, and sharpening. When the picture is ready to share with the world, then you can change the permission to "Anyone (Public)," and it will be viewable by all.
Flickr's photo management tools are very good. And now that we have more ways to capture and upload images, we can use controls such as the Privacy setting to ensure that we have the flexibility we want while maintaining good quality.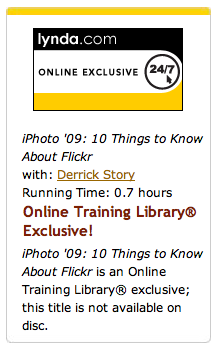 Flickr Training on Lynda.com
I'm currently working on an in-depth Flickr Essential Training with Lynda.com. But I have a good training online right now: iPhoto '09: 10 Things to Know About Flickr. "iPhoto and Flickr are a perfect match for sharing pictures on the web. In this training, I explain how these two applications work together to create online albums, known as sets. From the basics, like setting up a free Flickr account, to the more advanced features, like creating an iPhoto slideshow to publish on Flickr, I show features that both beginning and advanced photographers can use to enhance their online collections. So if you're an iPhoto user, you might want to check this out right now.
---
-
---
Technorati Tags: Derrick Story, digital photography, The Digital Story, Flickr