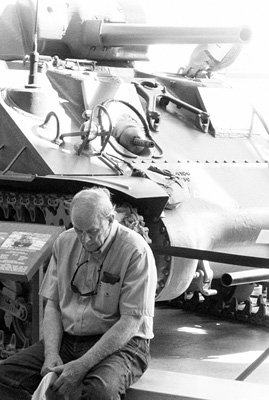 "I visited the WW II Museum in New Orleans while on a business trip last year," writes Rick Brandt, "and saw this gentleman sitting on a bench in front of a Sherman tank on display. I don't know for sure, but it crossed my mind that he may have very well been a veteran. Regardless of whether he is a vet of not — this moment in time does make me consider the sacrifice his generation made for mine and those that followed."
Rick captured this moment with a Canon G9, processed in Aperture with the aid of Nik Software's Silver Efx Pro.
If you have a candid you'd like to share, take a look at our Submissions page, then send us your Grab Shot. We'll try to get it published for you on The Digital Story.
And you can view more images from our virtual camera club in the Member Photo Gallery.
---
-
---
Technorati Tags: candid, digital photography, grab shot, The Digital Story