When I started shooting HD video with the Canon 5D Mark II, and now the Canon Digital Rebel T1i, I wanted a rig for recording on the go so I didn't always have to use a tripod. I investigated commercial steadicams, such as the Redrock micro, but spending $1,000 wasn't in my budget. I also looked into "do it yourself" rigs, such as the $14 Video Camera Stabilizer, but I needed something that looked a bit more professional for client shootings. So, I guess I needed a semi-DIY steadicam: one that I could afford, but also had some style.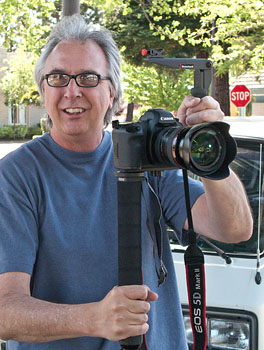 Optical stabilization is very important when you're in video mode. The difference between recording with stabilized lenses and non-stabilized is dramatic. But when you're shooting "walk and talks," optical stabilization isn't enough. So I hacked together a stedicam that uses just two components: 1) Stroboframe Quick Flip 350 Flash Bracket ($48), and (2) a $30 monopod, such as the Velbon RUP-40 4-Section Monopod. Total outlay is less than $80, that is, if you don't already have these components laying around the house right now.
Assembly only takes a minute. Screw the collapsed monopod into the end threaded hole on the flash bracket, attach your 5D Mark II, D90, Rebel 500D, etc., and start recording. I hold the grip of the flash bracket in my left hand and monpod grip in my right. This positioning provides the balance I need to record more evenly, even as I walk. You still need a stabilized lens, but this system works great.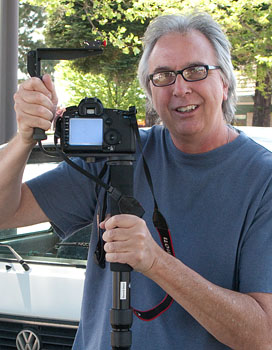 For shots where you don't have to walk, try putting the camera strap around your neck and resting the collapsed monopod on your belt. Hold the steadicam so the neckstrap is taunt. It's amazingly solid.
When you're finished shooting video, disassemble the rig and you have a monopod, flash bracket, and hopefully, some great video footage.
---
-
---