Joseph Victor Stefanchik makes pictures for a living. His photography studio, JVS Pictures, brings craftsmanship to the entire photography process, from capture, to processing, through printing, and even to mounting and framing. You would think that such quality would require equipment that's out of reach for most of us. But that's not the case. For example, Joseph shoots with Canon cameras, processes with Photoshop and Canon software, and prints on an Epson 3800 using Red River paper.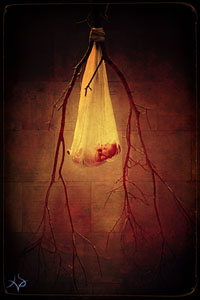 Photo by JVS Pictures
In this podcast interview, I glean tons of useful information from Joseph about making great prints. To give you an idea about his experience, here's a little bio information:
"Highlights in JVS' photojournalism career include winning the Robert F. Kennedy Journalism award for International Photojournalism as well as being named a Pulitzer Prize Finalist. Countless photojournalism contest wins date back to 1992. JVS has been furthering the education of other photographers by teaching in-depth lighting workshops with the help of his highly educated and talented wife, Anne Farrar. The two bring 30+ years of combined experience to each Workshop they teach.
Monthly Photo Assignment
Rim Lighting is the May 2009 Photo Assignment. This portrait technique puts the light source behind the subject (creating the rim light effect) then uses a fill light for the front. You can read more about how to submit on our Submissions page. Deadline for entry is May 31, 2009.
Listen to the Podcast
You can also download the podcast here (24 minutes). Or better yet, subscribe to the podcast in iTunes.
Want to share photos and talk with other members in our virtual camera club? Check out our new Flickr Public Group. It's a blast!
---
-
---
Podcast Sponsors
SiteGrinder lets you take ownership of your websites. Effortlessly output pages right from Photoshop.
Red River Paper -- Try the $7.99 Sample Kit.
Add Magic to Your Slideshows -- FotoMagico presentations are so amazing that your audience will be asking how you did it.
---
Technorati Tags: digital photography, podcast, technique, Technology, The Digital Story, tips