You can easily amass thousands of digital images, then one day realize that your computer has become more cluttered than the hallway closet. You need to get organized, but you're not sure where to begin.
I designed the photography workshop, "I've Taken Great Pictures, Now What?" to solve that exact problem. In the workshop, I cover the five basic steps for an efficient photography workflow: Acquire, Organize, Edit, Share, and Save. I show how you can take control of your pictures using tools that are on your computer right now. Then I introduce some of the amazing workflow software that's available right now (Aperture, Lightroon, Photoshop CS4), so you can begin to upgrade you post production tools -- all the while keeping in mind your specific needs.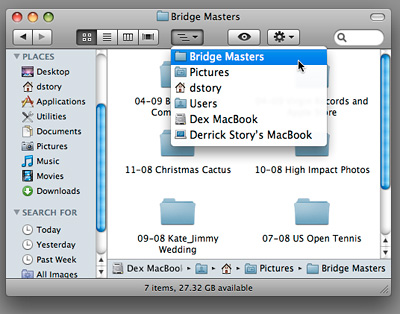 If this scenario sounds like something that can help you, then I suggest you download the class notes (1.3 MB PDF file), then listen to this podcast, I've Taken Great Pictures, Now What?. Soon, you will be on the road to organization, efficiency, and enjoying your pictures more than ever.
If you'd like to attend the 4-hour workshop in person, the next session will be on June 20, 2009 at the Santa Rosa JC in Northern California. For more information, call 707-527-4372. The course fee is $63.
Monthly Photo Assignment
Rim Lighting is the May 2009 Photo Assignment. This portrait technique puts the light source behind the subject (creating the rim light effect) then uses a fill light for the front. You can read more about how to submit on our Submissions page. Deadline for entry is May 31, 2009.
Listen to the Podcast
Now that I've piqued your curiosity, it's time to listen to today's audio show titled, "I've Taken Great Pictures, Now What?" You can download the podcast here (28 minutes). You can also subscribe to the podcast in iTunes
The Digital Story podcasts are available for direct download from Apple iPhones. I've created a special mobile download page here. Just load the page in Safari, browse the podcast line-up, and click on the one you want to listen to.
Want to share photos and talk with other members in our virtual camera club? Check out our new Flickr Public Group. It's a blast!
---
-
---
Podcast Sponsors
SiteGrinder lets you take ownership of your websites. Effortlessly output pages right from Photoshop.
Red River Paper -- Try the $7.99 Sample Kit.
Add Magic to Your Slideshows -- FotoMagico presentations are so amazing that your audience will be asking how you did it.
---
Technorati Tags: digital photography, podcast, technique, Technology, The Digital Story, tips