Zoom out pictures, instructional video, Flash podcast player, new Creative Output department... welcome to The Digital Story V2 (TDS). In this week's podcast, I introduce you to the new features of our retooled site. We upgraded the hardware, updated the publishing platform, refreshed the look, and added new content. We poised for the next generation of our virtual camera club.
To help you visually compare. Here's how TDS appeared from Oct. 2005 through April 2009 (click on image to zoom to larger size):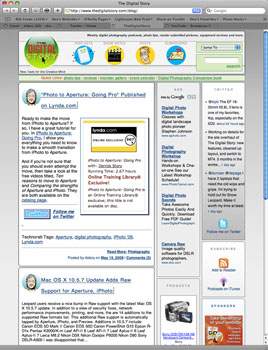 After we launched the site refresh in May 2009. Here's how the site looked (click on image to zoom to larger size):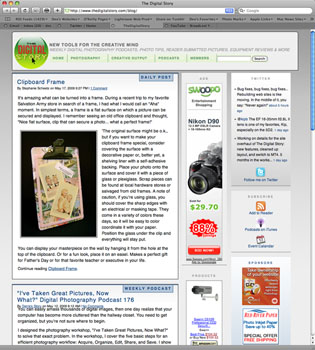 Monthly Photo Assignment
Rim Lighting is the May 2009 Photo Assignment. This portrait technique puts the light source behind the subject (creating the rim light effect) then uses a fill light for the front. You can read more about how to submit on our Submissions page. Deadline for entry is May 31, 2009.
Listen to the Podcast
You can also download the podcast here (24 minutes). Or better yet, subscribe to the podcast in iTunes.
Want to share photos and talk with other members in our virtual camera club? Check out our new Flickr Public Group. It's a blast!
---
-
---
Podcast Sponsors
SiteGrinder lets you take ownership of your websites. Effortlessly output pages right from Photoshop.
Red River Paper -- Try the $7.99 Sample Kit.
Add Magic to Your Slideshows -- FotoMagico presentations are so amazing that your audience will be asking how you did it.
---
Technorati Tags: digital photography, podcast, technique, Technology, The Digital Story, tips