Flickr excels at both image sharing and exploration. In this podcast, I discuss my 10 favorite Flickr tips.
Spend some time with your account profile. Think about the type of copyright you want to apply, who can see your photos, will geotags show, etc. In part, how you set your account profile reflects how you want to use Flickr and share your work.
Build Flickr into your workflow. Use uploadrs that are friendly to how you operate. If you're an iPhoto user, for example, check out FlickrExport by ConnectedFlow. It's more powerful than the built in uploadr in iPhoto '09.
Make tagging easy. For example, Flickr can read keywords in IPTC metadata. So if you apply keywords during your normal workflow, and export them with the image, Flickr tags will automatically be applied to your images.
You don't always have to image edit your pictures before upload. Flickr's online editing tools are quite decent.
Use the Share link (upper right corner) to share images with non-Flickr members. It's very handy and works great.
Have your Photostream page represent you and your approach to photography. Set your Photostream page layout in Account Preferences (under the Personal Information tab), organize the presentation of your Sets and Collections (in the Organize section), and share information about your photos to visitors.
Spend time in the Explore section. Flickr staff does a great job of highlighting beautiful photography, plus introduces you to new ways to think about imaging through tools such as the World Map, Camera Finder, Calendar, and the Flickr blog. This is a great opportunity to expand your boundries.
Learn about mobile Flickr if you use a smartphone. It is a wonderful site for managing your work as well as adding to it.
Speaking of cameraphones, here's a tip for mobile users. When uploading from your smartphone, set permission to Private. Then change to Public once you've picked your favorites and edited them.
Experiment with the "long photo," Flickr's approach to video. You can create terrific content that is viewable in 90 seconds or less, and then share it in your Flickr photostream.
iPhoto users may want to check out my Lynda.com title: iPhoto '09: 10 Things to Know About Flickr. I'll have a Flickr Essential Training title ready later this Spring, so keep an eye out for that too.
And don't forget about The Digital Story Public Group on Flickr.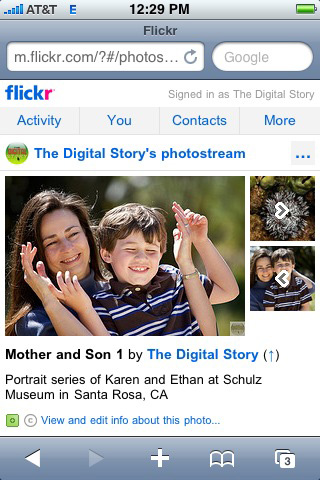 A screenshot of my mobile flickr photostream on an iPhone.
Monthly Photo Assignment
Rim Lighting is the May 2009 Photo Assignment. This portrait technique puts the light source behind the subject (creating the rim light effect) then uses a fill light for the front. You can read more about how to submit on our Submissions page. Deadline for entry is May 31, 2009.
Listen to the Podcast
Now that I've piqued your curiosity, it's time to listen to today's audio show titled, "Top 10 Flickr Tips" You can download the podcast here (24 minutes). You can also subscribe to the podcast in iTunes
The Digital Story podcasts are available for direct download from Apple iPhones. I've created a special mobile download page here. Just load the page in Safari, browse the podcast line-up, and click on the one you want to listen to.
Want to share photos and talk with other members in our virtual camera club? Check out our new Flickr Public Group. It's a blast!
---
-
---
Podcast Sponsors
SiteGrinder lets you take ownership of your websites. Effortlessly output pages right from Photoshop.
Red River Paper -- Try the $7.99 Sample Kit.
Add Magic to Your Slideshows -- FotoMagico presentations are so amazing that your audience will be asking how you did it.
---
Technorati Tags: digital photography, podcast, technique, Technology, The Digital Story, tips