I absolutely love it when I can create something cool out of an object that would normally get thrown away. Case in point... CD discs. These little silver platters offer the perfect surface for creating decorative and meaningful wall clocks. All you need is a CD, a photograph, and a clock mechanism that's available at almost any bargain store.
When you print out your picture make sure it's about the same size as the disc, if not a little larger. Since a CD is about 4.5" in diameter, a 5" x 7" print will usually do the trick. Adhere your image to the CD using a spray adhesive. Trim off the excess paper from the edges and poke a hole in the center.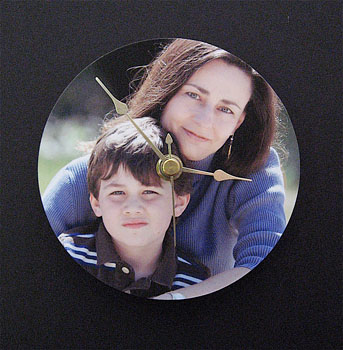 To turn it into a timepiece, you will need to insert a clock mechanism through the hole and attach it to the back using an industrial strength glue. Carefully remove the clock arms for this phase of the project. You'll reattach them in good time. Clock mechanisms are available at most craft stores, or you can always salvage one from an old wall clock (that isn't as handsome as your work).
Once the mechanism is adhered to the CD, reattach the clock arms and second hand. Mount on the wall, and you have a timepiece that's pretty as a picture. Or to be precise, pretty as one of
your pictures
.
---

Events! See the TDS Event Calendar for photography workshops, speaking engagements, and trade show appearances.