I started paying attention to Canon Picture Styles about the time they put a button for them on the back of the camera. I figured if they got their own button, this must be important. When you go to the Picture Styles menu, you choose from a handful of settings: Standard, Portrait, Landscape, Faithful, etc., or you can create your own. Each Picture Style is determined by four parameters: sharpness, contrast, saturation, and color tone. This gives you more control over how the image is processed in the camera.
I've been running field tests with this function to decide how I feel about it. During the latest experiment, in Yosemite National Park, I shot in Raw+Jpeg mode on a Canon Digital Rebel T1i (500D) with a 24-105 mm L f/4 lens. I used the Landscape Picture mode, which affected the Jpegs, and then processed the Raw files in Adobe Camera Raw to my tastes, then compared them.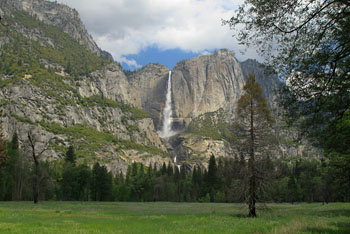 Yosemite Falls captured with Canon T1i using the Landscape Picture Style. Photo by Derrick Story. Click to zoom.
As you see in the sample photos, the greens and yellows were really pumped up in the stock Landscape Picture Styles Jpeg, almost like a Velvia film slide. Even though the Raw and the Jpeg versions were captured at the same split second, their unique processing renders them much different.
The Raw file was processed using the Adobe Standard profile as the starting point in ACR (Camera Calibration > Color Profile). A lot of people don't realize that all of the Canon Picture Styles are also there in the Camera Calibration tab when you process Canon Raw files in ACR. So if you want, you can switch among the different Styles in post production and choose the starting point you like best. I went with Adobe Standard for this shot.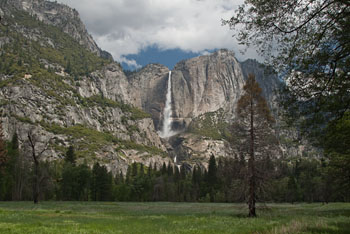 Yosemite Falls captured with Canon T1i in Raw format then processed in ACR. Photo by Derrick Story. Click to zoom.
So the question is, if you're shooting Jpegs, is Picture Styles worth considering? I would say yes if you did a little pre-work to create your own Styles settings. I think that's where their best value resides. The presets are fine, but they don't really express your photography. Of course, the ultimate control comes with Raw shooting. But if you have a Picture Style that you trust waiting for you in the Picture Styles menu, then you have a reasonable alternative to Raw shooting for those times that need it.
More About the Canon Rebel T1i
"Hands On Review of the Canon T1i (500D) - Digital Photography Podcast 179
Street Shooting with Canon 500D/T1i
---
-
---