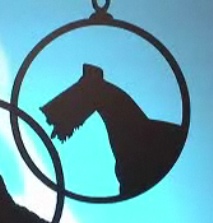 Sometimes you just don't know when you'll find inspiration for your next craft project. One of my favorite TV shows, Groomer Has It put a clever spin on the classic art form of black paper silhouettes. In many scenes, the interior walls were decorated with these cute pet profiles, so I was inspired to make one, too.
Take a frontal or profile picture of your pet. Print the image onto an 8.5" x 11" sheet of copy paper. Place your "photocopy" over a piece of black paper and staple the corners to secure the papers together. Use a sharp pair of scissors to cut around the details. Here's cutting a tip: if you move the paper and not the scissors, you'll get a cleaner edges on your silhouette.
When you're done trimming, adhere your cutout to a bright colored, patterned, or neutral background paper using a spray adhesive. Finally, frame Fluffy or Fido, and your artwork is complete!
Illustration from the Groomer Has It show on Animal Planet.
More Creative Output Projects
Be sure to visit our Creative Output studio for more great project ideas.