Nagasaki was a special visit for me on many levels. I knew it was going to be a great day when I saw the morning light...
Just about the time I had resigned to no photography in the dense fog of the Sea of Japan, we emerged from the haze and arrived in Nagasaki. And with sunrise, everything changed. The morning sky was beautiful. Large cumulous clouds refashioned the landscape creating a light show that alternated from dark subtlety to bright celebration across the city.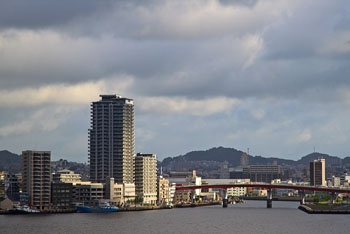 I had my camera bag with me as I climbed the stairs to an early breakfast. I opted for a bowl of cold cereal, some fresh fruit, and a mug of dense, bitter coffee. I stood at a laminated wood bar on the soggy aft deck while I ate. All the seats were too wet for sitting. Just as I finished the cereal, a bank of clouds shifted allowing the sun to illuminate a corner of the sky.
I pulled back the flap on the camera bag to see that the 24-105 mm f/4 was mounted on the Canon T1i. I checked the ISO to make sure it was at 100 (plenty of light here) and began composing shots while leaning against the deck rail. The first image that caught my eye was a distant bridge with a tall building. A beam of light broke through a clouds spotlighting a part of the tallest building leaving its other sides in shadow. I thought the effect was striking and managed to shoot a couple frames before composition changed.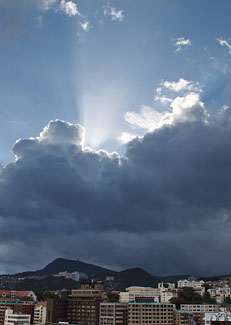 ---
Photos by Derrick Story, using a Canon T1i DSLR with a Canon 24-105mm f4 L IS lens. You can view a catalog from the entire trip to Asia on the The Digital Story Flickr page.
---
Then, to my right, I saw the light from the sun shoot upward from a dark bank of clouds creating a white rim on their edges accompanied by a bright shaft reaching upward. Below the light show, the city buildings were in shadow. The effect was wonderful, even though I knew the buildings would be too dark for my taste, I exposed for the shaft of light figuring that I could recover some shadow detail in post production. This is an advantage to shooting Raw.
Later, in Adobe Camera Raw, I used both the Fill Light slider and the Graduated Filter to better balance the buildings with the rest of the scene. I didn't want to make them too bright, since that would be unnatural. But I did want them to serve as an interesting foundation to the calamity unleashed above.
I then finished the bowl of fruit and prepared to explore the city. A light breeze help offset the warm, humid morning. I had the feeling that a good day lie ahead.
Previous Stops on Eastern Journey
Early Morning on the Beijing Streets
"Field Notes from Asia Shoot" - Digital Photography Podcast 185
If You Want a Boy, Visit Jeju and Touch Dol Hareubang
Robosquare: The Ultimate Robot Store in Fukuoka Japan
---
-
---