Want to view your Flickr images a new way? Check out Flickroom. This Adobe AIR application not only provides that beautiful charcoal colored interface that makes your photos pop, the Flickroom team has also included a host of useful features such as instant notifications for any activity on your photostream, upload photos by just drag-and-drop, add comments, mark faves, add notes, tweet about your photos, and chat with other Flickroom users.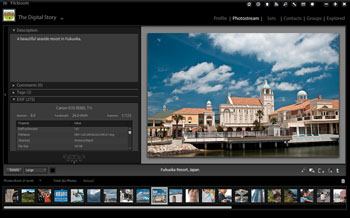 I haven't replaced viewing Flickr with their traditional browser, but I do like Flickroom for "really looking at my photos online." The cleaner interface lets me see my shots differently than I do on Flickr. I also use Flickroom for looking at my site the way the public sees it since it doesn't display images I mark as private.
There wasn't much information about the folks behind Flickroom on their site, so I wrote them and asked about their story. They replied: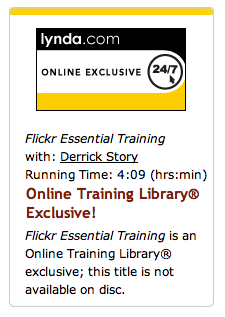 "Ours is a small startup company which has some very talented Flash/Flex/AIR developers and testers. We have decent experience in creating applications (for clients) based on these technologies. Some of the members of our team are photographers and share their pictures on Flickr. Sometime back they felt that the user interface of Flickr could be enhanced immensely if it were made a desktop application using a technology like Adobe AIR. So that led to the whole idea, and we started working on it. Although the current beta version that is available provides limited functionality, we are working on a lot of desktop-integration features that would make the Flickr experience really seamless. With every update of this application, we hope that the experience of Flickr users would get better and better."
Just in the short time I've been following this story, I have noticed remarkable improvements in the application. So much so, I now feel comfortable recommending it for others too. I have a feeling that within another few updates, Flickroom will become a favorite application among many Flickr users.
---
-
---