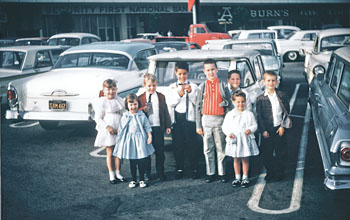 On June 22, 2009, Kodak published A Tribute to KODACHROME: A Photography Icon. The initial idea for the page was a good one: have top photographers Steve McCurry, Eric Meola, and Peter Guttman share their thoughts and images about the world's most famous film. But now, weeks later, there are also dozens of anecdotes, tributes, and frustrations contributed by photographers who had an affinity for Kodachrome.
It's quite an interesting read. And combined with the great slideshow of Kodachrome images, you really get a sense of this product's place in photographic history.
Here's my own flashback photo: Birthday party in Southern California. I'm the one in the red shirt. Click photo to enlarge.
---
-
---
Technorati Tags: Kodachrome, Film