During last week's assignment in Southern California, I photographed some beautiful people. But the star of the week was an after-hours self-assignment: The all electric Mini E Cooper car. There are only 500 of these in the US right now, and I could not pass up the opportunity to photograph, then drive one.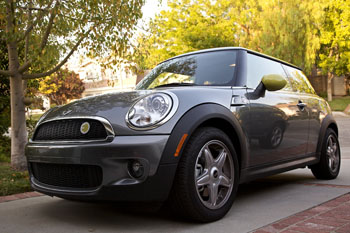 This event was made possible by one of the 500 who have a 1-year lease on the all-electric wonder car: Mark and Amy Swain. I met them while Mark and I were teaching on a cruise to Mexico, and we've been friends since. When Mark and Amy invited me to dinner and my first Mini E experience after work one night, I packed my camera and headed to their home.
When shooting cars, I recommend that you get a good mix of detail shots and overviews. I like to take car shots late in the day when the sun is low. This helps me control contrast and get good detail. I've published a dozen images on the TDS Flickr site. Car lovers should enjoy this gallery.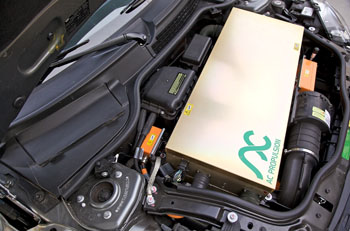 Driving the Mini E was a thrilling experience. The car handles like a sports car (as Mini Cooper drivers already know), but now you have the added punch of instant acceleration. If you're cruising along at 40 mph, and you punch the "gas," the car rockets forward. It's really amazing to drive a vehicle that doesn't require a multi-gear transmission. The engine is always engaged.
---
Photos by Derrick Story using a Canon 5D Mark II with a Canon 24-105mm zoom lens. For more photos, visit the TDS Flickr site.
---
Braking is much different too. You just ease off the gas. Since the car is still in gear, it brakes itself. In fact, it even regenerates a little electricity during the process. Once you've slowed to a stop, you hold down the brake peddle to keep you in place. You can use the brake petal while driving too, but it isn't usually necessary except for quick stops. None of us knows the future of all electric cars. But based on my experience with the Mini E Cooper, I hope this trend is here to stay. I had a blast.
---
-
---