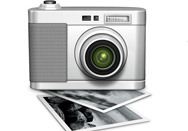 I've always been a big fan of the free application Image Capture, but with the release of Snow Leopard, new life has been breathed into this handy tool for photographers. In my latest Macworld article, Eight Amazing Image Capture Tricks, I show you how it can complement just about any workflow on the Mac.
What's interesting about the Macworld piece is that I had originally written it for Leopard. Even with the previous release of Mac OS X, I found Image Capture a noteworthy utility. But Snow Leopard brought about some major improvements.
You can control your WiFi connected scanners from any Snow Leopard Mac on your network. I've tested this with two multifunctional printer/scanners -- the HP C6380 and the older HP C8100. And it's not limited to rudimentary controls. Featured tasks include putting multiple photos on the flatbed and having them scanned into separate files, image adjustments, and even sharpening. Plus you can scan to a variety of formats. I use it all the time now for signed documents converted to PDFs.
I also like multiple device control for my various cameras and iPhone. I can set iPhoto to open for one device, and Aperture for another... or nothing at all. Very handy.
Another cool feature is network sharing of images on a device. So if I plug my iPhone into a computer downstairs, I can grab images off it from a Snow Leopard Mac upstairs.
If you haven't looked at Image Capture in a while, I encourage you to read the Macworld article and take it for a spin.
---
-
---