It's official. Yahoo! just released Flickr 1.0 for the iPhone. And after a few hours of testing, I have to say it was worth the wait.
When you first launch the software on the iPhone, you're greeted with a Ken Burns styled slideshow. If you're not logged in, the images are pulled from the Flickr pool. If you are logged in, the pictures are from your contacts. They look great and it's an innovative splash screen.
Once you've logged in to your account, click on the "You" button to access your photostream, sets, and favorites. I particularly like the way the sets are handled. They are well-displayed with easy-to-read labels. Go back to the main screen, and you can check out recent activity on your site and uploads from your contacts. If you want to share one of your photos, that's easy too. Either take a picture with your iPhone or upload one from your existing camera roll.
You can also search for images, comment on shots by others, and tag photos. Performance was good on both the 3G network and WiFi. Just be careful, you can easily lose track of time while browsing the immense Flickr collection of images.
For the best viewing experience of your search results, tap on a photo once to see detail about it, then tap on it again to enter presentation mode. Here you can swipe from image to image or rotate to landscape orientation for a better look at horizontal pictures.
Flickr 1.0 is a free download in the iTunes App Store. It requires iPhone OS 3.0 or later.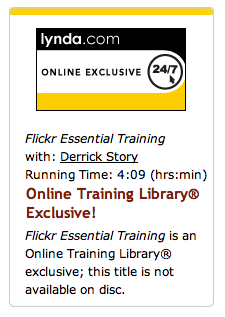 More Articles About Flickr
Flickroom Brings Lightroom "Look and Feel" to Your Flickr Photostream
Flickr and iPhone 3GS are Great Companions
iPhone App Reviews and Camera Phone Tips
A Look Inside Shutterfly for iPhone
Flickr Tip: Manage Permissions During Mobile Workflow
Cropulater Brings Picture Cropping to the iPhone
FotoTimer Provides Self-Timer for the iPhone
HP iPrint App Makes Printing Easy from iPhone or iPod touch
True Photo App for iPhone: CameraBag
---
-
---