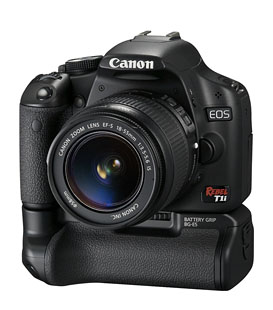 The
Canon BG-E5 Battery Grip
($117) provides comfort for larger hands, gives you two battery options, and adds a vertical shutter release button. An interesting side benefit that isn't listed in the specs is that it also makes either the
Rebel T1i
or XSi a bit more chunky and professional looking.
When I'm on the road in outdoor settings, I load up the battery grip with 6 Sanyo Eneloop rechargable AA batteries. That way, if I'm away from power for extended periods, I can keep shooting as long as I have AAs on hand. You can also use two LP-E5 lithium batteries instead. This configuration is much lighter than AAs. You get inserts for each of the two configurations. So switching back and forth is easy.
The built-in control buttons for vertical shooting include shutter release, AE/FE lock, main dial, and aperture/exposure. So no matter which way you turn the camera, you have maximum comfort.
Unlike with bigger cameras, when you want to travel lighter, just remove the battery grip, insert a single LP-E5 lithium battery, and you're ready to go. The bottom battery door does need to be removed to use the grip. It's easy to snap on and off. Just make sure you don't lose it when it's not in use.
Other Posts on the Canon Rebel T1i
Canon Speedlite 270EX Review - Versatile, Compact Flash
Canon Digital Rebel T1i Field Test at Bodie State Park, California
Street Shooting with Canon 500D/T1i
"Hands On Review of the Canon T1i (500D) - Digital Photography Podcast 179
---
-
---