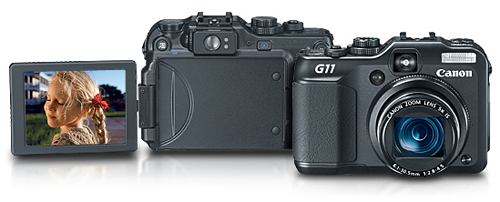 When Canon brought back the Raw file format to the PowerShot G9 in 2007, I thought it ruled the roost of pro-capable compacts. Now, 2 years later, much has changed with the competition thanks to the Olympus E-P1, Panasonic GF1, and upcoming beauties from the likes of Leica and others. It's a whole different world that the new Canon PowerShot G11 must compete in. Is it still to "go-to" compact for serious shooters that it once was?
The folks over at Luminous Landscape were wondering the same thing. In their review of the G11, they noted improvements such as the 2.8-inch Vari-Angle LCD and the ISO 3200 capability. Their bottom line, however, at least as I read it, is that the G11 is a good value for $490, but it doesn't compete image quality wise with the more expensive micro four thirds systems.
The nice thing about the G11, and what I still like about my G9, is that you have everything in one compact package that fits in your coat pocket. Plus, for another $150 you can get a great underwater housing (I have one for the G9), that allows you to shoot Raw in just about any environment with a zoom lens... $650 for the whole set up.
From my perspective, I don't feel the need to upgrade my Canon G9 to the G11. I'm having too much fun shooting high quality images with the Olympus E-P1. My friend, James Duncan Davidson is having the same positive experience with his Panasonic GF1. But I'm happy that I have a camera such as the G9 available to me.
But here's what occurred to me. I'm thinking that this high-end compact evolution will go more in the direction of Canon's new PowerShot S90. It's a little more affordable at $430, has a fast f/2.0 lens, shoots Raw, includes great features such as the control ring, and is very compact. The S90 could be the camera that you grab on your way out the door when even the micro four thirds systems are too big. In fact, the S90 might be Canon's high quality compact answer to the competition. I'm certainly more attracted to it than the G11.
Yes, a lot has changed in the last 2 years. The Canon PowerShot S90 is available on Amazon for $429. Very tempting.
---
-
---