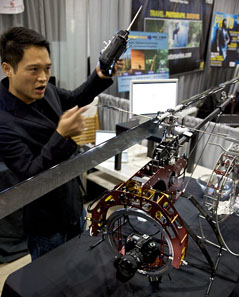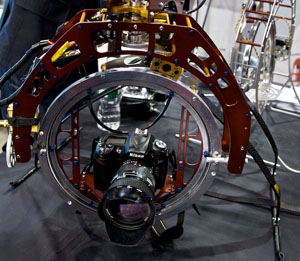 The SkyShutter AeriCam has a 3-axis camera mount built into a radio controlled helicopter. So you can fly your DSLR or videocam over the area that you want to cover, such as a car chase, and shoot it from angles that would be otherwise hard to achieve.
While I was at PhotoPlus Expo, Jason Lam from AeriCam had a SkyShutter set up. First, it's a beautiful piece of equipment to look at. It's constructed out of 7075 aluminum with custom anodizing. Even though it only weighs 3 pounds, it can carry a payload of 7 pounds. It has direct gear drive providing lots of power, and 360 degree pan, tilt, and roll to get great shots.
In my case, I would want it to come with a pilot too. Because the last thing I would want is to crash both helicopter and camera. You can find out more at AeriCam.com.
---
-
---