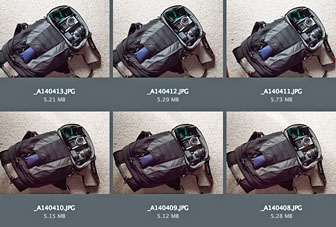 Here's a fun quiz: Which of these six images is most likely the sharpest? You'll need to click on the picture to zoom it out to see the real clue.
For those of you who have my Digital Photography Hacks book, the answer is actually one of the hacks. This is a trick that I've used for years when I have to turn around photos quickly and don't have time to examine each one of them at 100 percent magnification. Often, I'm just looking at thumbnails in Adobe Bridge, as described in my Photoshop CS4 Companion for Photographers, and I need to pick one quickly, process in Adobe Camera Raw, then send it on its way.
So, use this article's "Leave a Comment" to state which of these six thumbnails you think represents the sharpest image. I'll post my answer at the end of the day.
---
-
---