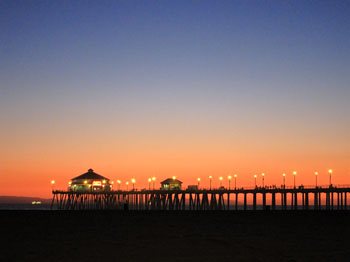 On a walk back from the Huntington Beach Pier last night at sunset, I lined up this shot with the Canon PowerShot S90. The camera was set to ISO 800 using Raw+Jpeg. I then processed the Raw file in Canon Digital Photo Professional. This is the type of shot that typically gives compacts a problem at high ISO settings, but the noise is quite reasonable here.
Photo by Derrick Story. Canon S90, 1/13th sec at f/4.5, ISO 800. (Click on image to enlarge). You can see a larger version on the TDS Flickr page.
More Articles About the Canon S90
Five Lesser Known (but very cool) Features on the Canon S90
Canon S90 Raw Processing Comparison: DPP vs ACR 5.6 RC
DigiScoping Pro Basketball with the Canon S90
Did Canon Really Improve Image Noise with the PowerShot S90?
"Compacts for Serious Shooters" - Digital Photography Podcast 201
---
-
---