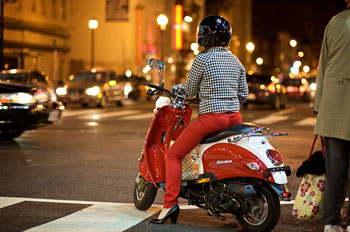 While I was in Washington DC, teaching at the Photoshop LIVE conference, the good folks over at We Love DC put together an evening photowalk. And they were kind enough to invite me. We had a great time. So, as you've read in earlier posts, when I go street shooting, I often decide which rig I want to use, then try stick with it the entire time. This outing, I went with the Canon 5D Mark II and my trusty 85mm f/1.8 lens.
---
An interesting side note about the 85mm f/1.8. One of the photowalk participants noted my glass, then he said with a smile: "As yes, the 85mm f/1.8 -- my favorite lens that I rarely use." If you fall into this category, then I say break it out of storage and get to shooting with it. It's been around for a while, but it's a beautiful lens.
---
I began the evening while there was still some light in the sky, so I set the ISO to 800. As it became darker, I moved to ISO 1600 and even shot a few frames at 3200. Most of the time, I was in Aperture Priority mode, locking the camera in at f/1.8 and letting it figure out the best shutter speed. I overexpose by a half stop in these conditions, just to keep the blacks from plugging up too much. Another trick to help corral those wild tonal extremes is to shoot in Raw, then process in Aperture. (People keep asking me if I still use Aperture. Well, yes! All of my Canon Raw files are processed with it. By the same token, I use Lightroom and ACR for the Olympus E-P1. I'm just trying to use the best tool for the job at hand.)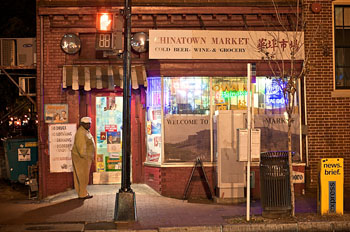 I did pack a monopod, but as is often the case, I never pulled it out of my Lowepro Fastpack 250. I love monopods, but they sometimes slow me down while street shooting. So I usually opt for bracing myself against a wall or a poll during capture instead of mounting the camera on a stabilizing device. Plus, I think it's important to experiment with a variety of shooting angles, and I can become trapped into shooting everything at the same level with a monopod.
---
Photos by Derrick Story. Captured with a Canon 5D Mark II and an 85mm f/1.8 lens. Click on picture to zoom to larger size. More images from this collection are available at the Digital Story Flickr page.
---
For example, the shot of the red scooter was taking shape about 50 yards away. So I had to sprint into position, then get down low on one knee to frame the shot the way I wanted. I probably would have missed it all together with a monopod. And I hate missing shots!
You can see larger versions of these images, plus more frames from this shoot by visiting the Washington DC set on The Digital Story Flickr page. The last seven shots in that set are with the 5D Mark II, and the first five, recorded earlier that day in a different part of town, were with the Olympus E-P1.
And thanks to all the DC folks for their great hospitality during my visit! It's quite a friendly town for such a big city.
---
-
---