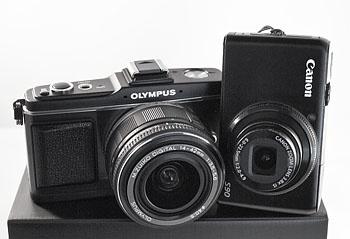 The Canon PowerShot S90 and the Olympus E-P2 are two of the more tantalizing portable cameras in the news right now. The S90 is a sophisticated compact that slides in your shirt pocket, and the E-P2 is a larger micro four thirds system camera that offers interchangeable lenses, electronic flashes, and even two different accessory viewfinders. It has a bigger 12.3-megapixel, four thirds sized image sensor compared to the S90's 10 megapixel, 1/1.7-inch CCD. But these two cameras do have one thing in common, they both preform admirably in low light.
I know this because I've tested each individually. Back in June, I tested the Olympus E-P1 for image noise, and was happily surprised that it performed great up to ISO 1600, and decently up to 3200. Since then, I've done plenty of real world street shooting with the E-P1, and have been happy with the results.
I've also been testing the Canon S90. Just last week I pitted it against a Canon G9, and the S90 blew it out of the water.
So, how would the pixels shake out if we compared the $430 Canon S90 against the more expensive Olympus E-P2? Well, that's exactly what I did with this test. You can see the full sized test shots at ISO 100, 400, 1600, and 3200 on the TDS Flickr site. I've included a lower resolution image here too for reference. But to really see the differences, you need to look at the full sized shots on Flickr.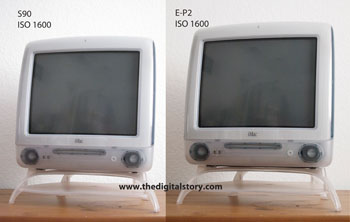 The bottom line? The Canon S90 put up an excellent fight. At ISO 100, it's hard to tell much of a difference between the two cameras. By ISO 400, they are still going toe to toe. But at ISO 1600, the E-P2 begins to pull away from the S90. And the difference becomes even greater at ISO 3200. The biggest advantage I see at 1600 and 3200 for the E-P2 is that it retains more image detail than the S90. My guess is, that by 1600, the S90's noise reduction system is beginning to take its toll on sharpness.
The test itself was very simple. I tripod mounted both cameras and put them in Programmed Exposure mode with Auto White Balance. I made not other adjustments other than moving the ISO setting from 100 to 3200 in full stop increments. I then opened each image in Photoshop at 100 percent and positioned the pairs side by side. I did not apply any image editing to the shots.
For small sensor cameras, I think both look great. And even though there are lots of feature differences between the two models, one thing we know for sure: each can handle itself just fine when the lights go down.
More Articles About the Canon S90 and Olympus E-P1 and E-P2
Did Canon Really Improve Image Noise with the PowerShot S90?
"Compacts for Serious Shooters" - Digital Photography Podcast 201
Five Lesser Know (but very cool) Features on the Canon S90
Olympus E-P2 Black Body and Electronic Viewfinder
Street Shooting Technique with the Compact Olympus E-P1
HD Video Capture with Olympus E-P1
---
-
---