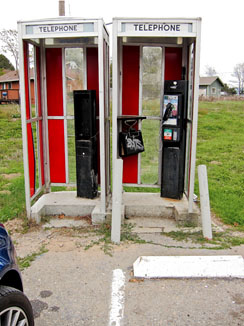 While I was parked at a county gas station, I noticed this pair of classic phone booths at the edge of the asphalt. It dawned on me that in just a few years we probably won't see many of these icons. Very few are operable any more, and it just seems like a matter of time before they're removed once and for all.
As a kid, phone booths represented mobility. You could place a call from anywhere to anywhere if you had change in your pocket. They were Superman's changing room, and the temporary offices for anyone who had to make a connection.
But the rise of cell phones have taken their toll on phone booths. Glad I had a camera with me when I spotted these.
"Old Phone Booth" captured with a Canon S90 in Aperture Priority mode at f/5.6 at 1/40th, ISO 80. Raw file processed in Canon DPP. Click on image to enlarge.
---
-
---