On a recent trip to Ventura, I had lunch with Megan O. Read, and she snapped some "polaroids" with her new Fujifilm Instax Mini 7S. The Mini 7S is a super-simple instant film camera that weighs less than a pound and is about 5" tall. It uses a fixed-focus 60mm Fujinon Lens, has a built-in electronic flash with exposure compensation, and produces 2.13" x 3.4" prints on Fujifilm Instax Mini Film.
Megan snapped a half dozen photos indoors, and they looked like what you would expect from flash shots on instant film: fun, nostalgic, but certainly not beautiful. When we were driving back from lunch, she asked me to grab the camera and shoot a picture out the car window. I did so, but when the photo developed, you could hardly see the image because it was so overexposed. I did a little research on this and found out that I wasn't the only one who experienced overexposures in bright sunlight.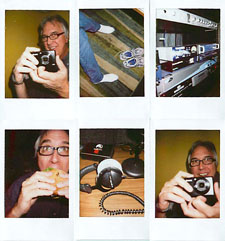 So if you do decide to pony up the $100 or so for the Fujifilm Instax Mini 7S, keep in mind that this is more of an indoor party camera than an outdoor snap-shooter -- something to keep in mind because the Mini 7S costs you a buck every time you press the shutter button.
---
Fujifilm Instax Mini 7S photos by Megan O. Read. You can check out more of Megan's work on her Flickr page. Click on image to enlarge.
---