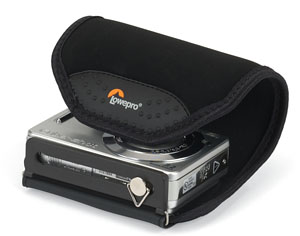 The Lowepro D-Wrap is a clever way to protect your camera and never lose its case. And for only about $12, it makes a superb stocking stuffer.
The case itself is made out of durable Neoprene fabric that wraps around the camera and is secured by a Velcro closure. It attaches to the body via a sliding tripod screw that easily loosens via a fold down handle to allow access to the battery and memory card. When you take picture, just open the case and let it hang down out of the way. When finished, it "wraps back up" protecting the camera. I'm currently using the D-Wrap to protect my Canon PowerShot S90.
You can watch an informative movie about how to use the D-Wrap on the Lowepro video page. Keep in mind that it's designed for compacts. My S90 is the largest camera it can accommodate comfortably. The case looks great, and it really protects the camera nicely.
More Gift Ideas for Photographers
If you haven't checked out my Top 10 Gifts for Photographers, be sure to take a look. I have links to all of the items, and there's an audio podcast on that page that describes everything in detail.
---
-
---