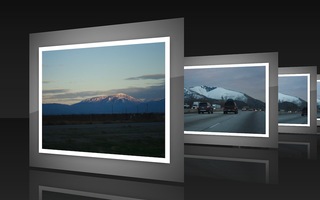 Sometimes all you want to do is select a bunch of images and show them off quickly... and beautifully. Slideshows on the fly provide the one-two punch of your great photos plus clever presentation. The problem is, you usually have to spend more time than you want creating these presentations before sharing them. What if you could author a something gorgeous by just selecting the images and hitting the play button? Thanks to PhotoPresenter 4, just released at Macworld by Boinx Software, you can ride this fast lane to your audience.
To select which images you want to show off, point PhotoPresenter to a folder on your computer, your iPhoto library, Aperture library, or even Flickr to gather the content. Then choose a theme (there are more than 30), hit the play button, and you are suddenly watching a full screen presentation on your Mac. It's literally one of those tools that allows you to say, "Here, let me show you those pictures right now." Once you're done watching the show, you can export it to a standalone player that plays on any Mac, or to a variety of formats including iPhone, Apple TV, iDVD, or customize it yourself via QuickTime settings.
If you already own FotoMagico Pro, then your license works also with PhotoPresenter. Or you can download PhotoPresenter as a standalone app for $29. If you want to see a live demo of this cool program, sign up for the live webinar on Feb. 22.
---
-
---