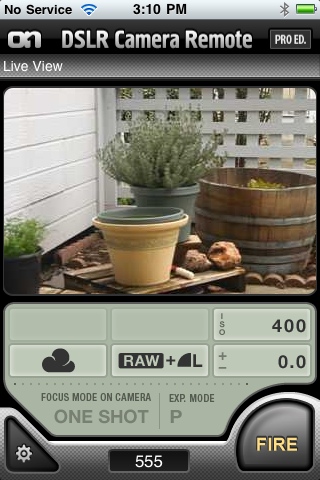 Control your Canon or Nikon DSLR remotely with your iPhone.
I knew there would be a good reason to hang on to my 1st gen iPhone after I had upgraded to the 3GS. Among other handy tasks, it is now my remote control for both the Canon 5D Mark II and a Canon Rebel T1i.
Using DSLR Camera Remote by onOne software, I can literally see through my camera lens on the iPhone with its Live View function and fire the shutter at any time. Plus, I can change the ISO, white balance, file format, and exposure compensation directly from my iPhone. I don't even have to be in the same room as the camera to control it. All I need is a WiFi network that my iPhone can log on to, and a Mac computer with the Canon connected via its USB cable. The entire setup takes about 15 minutes.
I like to use this rig for bird watching. I have a makeshift birdbath on my back patio. The birds love it, but they are shy and don't like it when I stand at the sliding glass door with my camera. So I plugged a DSLR into a MacBook running the DSLR Remote Server software (that's a free download from the onOne site), and monitor the bird activity on my old iPhone 1st gen while working away at my desk -- far away from the slider. When I see something I like, I hit the "Fire" button on my iPhone, and the DSLR takes a picture. I still have my new iPhone to take calls and use for other activity.
There are two versions of the iPhone app: Pro ($19.99) and Lite ($1.99). The Lite version allows you to trip the shutter and see a preview of the shot you've just captured. Very basic, but also very handy for only a couple bucks. The Pro version enables all of the functions I mentioned above, plus it includes an intervalometer, auto bracketing, and burst mode controls.
I tested DSLR Camera Remote with both the 5D Mark II and the T1i. It worked flawlessly with both cameras. I highly recommend it.
---
-
---