One of the biggest challenges when you're a sports fan is getting a few memorable shots from the event and stay within the venue rules for photography equipment. Fortunately, with my compact Olympus PEN E-PL1
and an old Zeiss 135mm f/2.8 lens from my Contax film days, I'm able to sit in the (not so) cheap seats and still come away with a few nice images. The E-PL1 doesn't look like a pro camera with its stock lens mounted, so I don't raise any eyebrows when passing through security.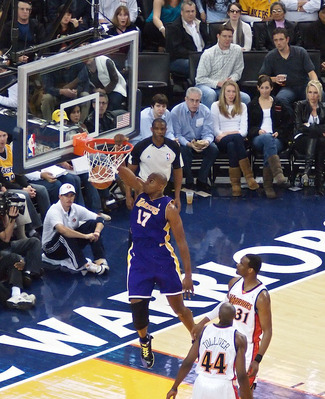 This shot of the Lakers center, Andrew Bynum, dunking the ball was recorded from the upper deck. Since the E-PL1 is a micro four thirds camera, it doubles the focal length of any lens I mount on it. So using an adapter, my 135mm Zeiss becomes a 270mm f/2.8 telephoto. Shooting wide open at f/2.8 with an ISO of 1600, I was able to use an action-stopping shutter speed of 1/640. (Click on image to see larger version.)
As with any sporting event, there are lots of missed shots too. But as long as I'm able to come away with a handful of keepers, and have a good time, I'm thrilled with the outcome.
More Articles About the Olympus E-PL1
Olympus E-PL1 Review: Working in iAuto
Hands On Preview of the New Olympus E-PL1 PEN
Micro Four Thirds - Digital Photography Podcast 216
---
-
---