"This was literally a shot where I grabbed the camera with whatever settings it was on, and snapped away," writes Anthony Zahra.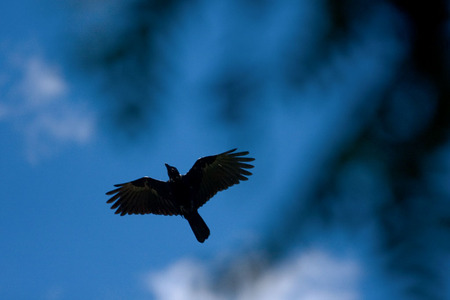 "I had been taking random shots of my son playing cricket (weird English/Australian sport you guys never understand :) They wear all white, which was tending to blow out in the full sun, so I had a -EV setting when I saw this crow fly overhead. I grabbed the camera, which was sporting the Canon 70-200 f/2.8, and fired off a shot. I liked the silhouette of the bird and softened tree branches against the rich blue sky."
Anthony captured this image with his Canon 40D and a 70-200mm f.2.8L zoom. He was in Shutter Priority mode (from the cricket match) at 1/6400. At ISO 200, the corresponding aperture was f/2.8.
Photo by Anthony Zahra. Click on image to zoom to larger size.
If you have a candid you'd like to share, take a look at our Submissions page, then send us your Grab Shot. We'll try to get it published for you on The Digital Story.
And you can view more images from our virtual camera club in the Member Photo Gallery.
---
The Digital Story Podcast App is the best way to stream or download weekly TDS podcast episodes. No more syncing your iPhone or iPod Touch just to get a podcast. And there's more! Tap the Extras button for free passes and discounts, the latest blog posts from The Digital Story (audio versions), and the current Grab Shot by our virtual camera club members. Each podcast episode has its own Extras button, too, that contains more goodies such as pro photo tips. And the best part is, The Digital Story Podcast App is your way to help support this show.Download it today!
---
-
---
Technorati Tags: candid, digital photography, grab shot, The Digital Story