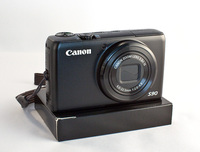 In my recent Macworld Magazine review of the Canon S90, I say that it: "might be one of the most powerful point-and-shoot cameras that you can slip into your shirt pocket." After using this compact for months now, I feel stronger than ever about that statement. This is a great camera.
What really impresses me about the S90 is how much image quality it pulls out of its 10 Megapixel, 1/1.7-inch CCD sensor, which has only a fraction of the surface area compared to a four-thirds or APS-C sensor. Yet, in most lighting conditions, the Raw files, as well as the Jpegs, look terrific. When I'm traveling, I always keep the S90 on the front seat next to me so I can grab it in a hurry if something interesting appears. And thanks to its compact size, I have captured many shots that I would have missed in the past.
Things got even better when Aperture 3 was released, which can process S90 Raw files. Including Adobe Lightroom, Adobe Camera Raw, and Canon's own DPP software, we now have many options for working with these Raw files.
For more information about the S90, please read my Macworld review where I gave the Canon S90 4.5 mice, highlighting these pros and cons:
PROS
Extremely compact and lightweight; outstanding image quality; Raw format support; excellent user interface.
CONS
Lackluster battery performance; control dial on back can accidentally change settings; no HD movie mode.
More Articles About the Canon S90
Canon S90 Raw Processing - Aperture 3 vs Digital Photo Professional
Five Lesser Known (but very cool) Features on the Canon S90
Canon S90 Raw Processing Comparison: DPP vs ACR 5.6 RC
DigiScoping Pro Basketball with the Canon S90
Did Canon Really Improve Image Noise with the PowerShot S90?
"Compacts for Serious Shooters" - Digital Photography Podcast 201
---
Did you know that you can listen to audio versions of daily TDS posts on The Digital Story Podcast App? Just tap the Extras button, and the current post will be there for the listening.
---