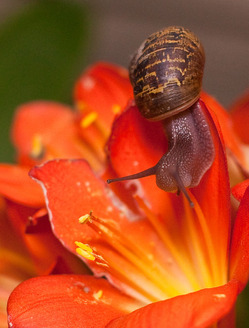 I recently added a Litepanels LP Micro Compact LED Light
to my DSLR kit. In part, because I wanted a continuous light for close up photography and for video with the Canon 5D Mark II. I chose the Litepanels Micro because it has good output for a small light, is 5600K daylight balanced, has an adjustable intensity knob, uses 4 AA batteries, and it's virtually heat free.
Even though the panel is over 3" wide, the light sometimes seemed a little harsh for certain subjects. I decided that I wanted to make a diffuser for the Litepanel, so I constructed one using only a letter-sized sheet of paper and a large rubber band.
First thing I did was mount the LP Micro backwards in the hot shoe so it sat back on top of the camera. I then folded the paper as shown to create a larger surface area and attached it to the Litepanel with a rubber band. I cranked the power all the way up, mounted my Sigma 50mm f/1.4 lens on the Canon 5D Mark II, and increased the ISO to 1600. I shot in Aperture Priority mode at f/2.8 for this shot of the snail. (Click on the image for an enlarged view.)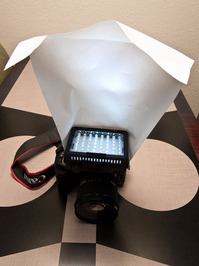 With the diffuser, the quality of the light was much softer, yet, there were still nice highlights in the photo. I shot the picture at night when the snails were out having their meals. Even diffused, there was enough output from the Litepanel for me to shoot at 1/30 at f/2.8 in the darkness. Because the light is continuous, I can better compose the shot, and work quickly.
The
Litepanels LP Micro Compact LED Light
is not cheap: about $275. But I like having it in my kit along with a regular flash for these types of subjects.
Photographs by Derrick Story. Click on images to enlarge.
---
-
---