One of the great joys of photography is exploring new locations that we might not experience otherwise. If this exploration leads you to the outdoors, then I have good news for you. Over the coming months, I'll be covering outdoor gear and techniques that will help you be more comfortable and productive while working in nature.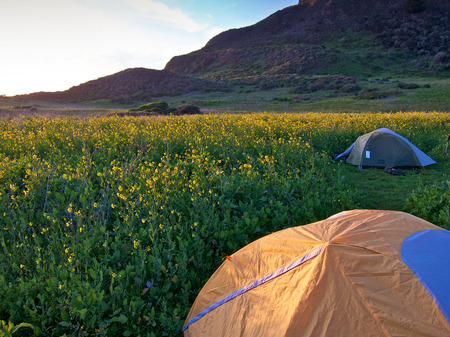 I'll discuss tents, stoves, shoes, accessories, camera bags, locations, tips, and just about anything relative to this type of photography. We'll begin later this week. So, if you're planning to spend more time working hiking and camping with your camera... stay tuned. We're going to have lots of fun with this.
And if you have tips and gear recommendations, please drop me a line. I want to include as many viewpoints as possible.
Wild Mustard in Wildcat Camp, Pt. Reyes, CA. Photo captured with a Canon S90. REI tents in the foreground. Click on photo to enlarge.
---
-
---