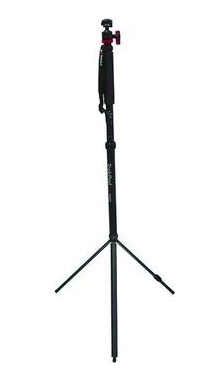 Stabilizing your camera, especially if you zoom out the lens for telephoto shots, can be important on the trail. We have a couple options here for you to consider.
TrekPod GO! PRO Monopod/Tripod/Walking Stick Combination with MagMount Pro Ballhead
TDS member Ed Shields writes: "I've used a TrekPod GO PRO, which is a great concept; combination monopod, tripod, hiking stick, but at $175, it's not cheap. Also at roughly 30 oz, I find it too heavy to use as a hiking stick, and now rarely use it except on very short hikes."
"The majority of the time that I shoot with it, I use it in its tripod configuration for long duration shots (water falls and other moving water and/or hiking group shot). If I had it to do over again, I'd just use my current Leki hiking stick and go for a small, lightweight tripod that I can carry with my day pack. I hike with a Panasonic G1."
LEKI Sierra Antishock Trekking Pole
Which leads us to a second consideration. Why not use a true trekking pole that has a tripod screw built-in? The LEKI Sierra Antishock Trekking Pole
is the model I've been using for recent hiking and backpacking trips.
It's light enough for all day hikes, has a removable rosewood knob on top that reveals a tripod screw with a tightening disk, and it extends to 145 cm for comfortable shooting. When on the trail, I remove the rubber cover to reveal the Carbide tip. The built-in anti-shock system is a real blessing on hard surface hiking. I also use the pole to prop up my backpack and to hang laundry while in camp. At $76, it has already provided many miles of use in the great outdoors.
If you have a favorite way to stabilize your camera when on the trail, please post a comment!
Previously in Outdoor Gear for Photographers
Sunset Portraits - Outdoor Photo Tip #1
New Series on Outdoor Gear for Photographers
---
-
---