When you first look at the specs for the Canon EOS Rebel T2i / 550D
, you might think that Canon can't provide 18 megapixels resolution on an APS-C sensor and control high ISO image noise and price the body at $799 US. And you would be wrong, because that's exactly what they have done.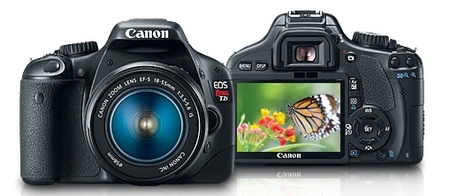 You know it's a serious camera when Digital Photography Review says in their exhaustive report on the T2i/550D, "The unavoidable fact is that to get the most out of the 550D's sensor you really need to pair it with Canon's better lenses, which is a considerable investment." Then go on to say, "That said, the bottom line here is that the EOS 550D offers excellent image quality in a range of different conditions, including exceptionally low light, thanks to its usable ISO 12800 setting. Image quality is equal or better than its predecessor the EOS 500D, and not noticeably inferior to the considerably more expensive EOS 7D. The 550D's video capability is excellent too."
Yes, so the upshot is for enthusiasts photographers with good glass, or pros looking for an affordable back-up camera that delivers high quality results, the new Canon EOS Rebel T2i
is a pro tool with a consumer price tag.
---
-
---