The Lowepro Versapack 200 AW
combines a fast access camera compartment with a handy personal storage area into a light, all weather backpack that's perfect for an afternoon outing.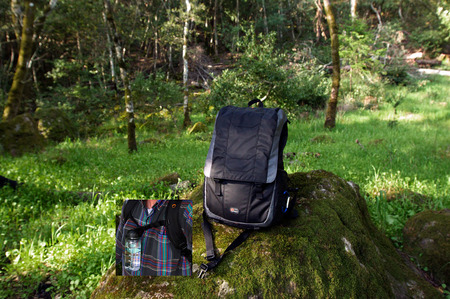 My typical set up with this pack starts a 70-200mm zoom on a DSLR in the bottom, quick access area (it's quick access because you don't have to remove the pack to retrieve your camera, just reach around, unzip the pocket, and grab your camera). I keep a wide angle zoom in the top pocket, along with a jacket, protein bar, and whatever personal accessories I need. Maps and other papers store nicely in the front documents pocket. And if I'm on the trail, I hang a water bottle from the chest strap.
For such a light pack, the suspension system is very comfortable. I can literally wear it all day with no neck or shoulder strain. If rain is in the forecast, the hidden all weather cover can be pulled out to protect the entire pack. The two bottom straps work great for a tripod, ground mat, or rolled up jacket.
The internal foam protection dividers can be removed from the Versapack, allowing you to fold the entire unit flat to store in a suitcase for travel. When you get to your destination, insert the dividers, and you're ready to explore.
The Lowepro Versapack 200 AW retails for $99.95
.
Previously in Outdoor Gear for Photographers
Dependable Footwear for Photo Work in the Field
Shelter on Location: REI Half Dome 2
"The Great Outdoors" - Digital Photography Podcast 218
New Series on Outdoor Gear for Photographers
---
-
---