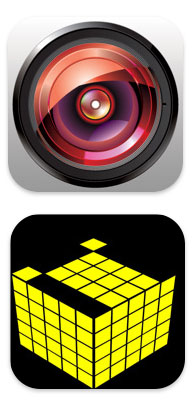 There's no camera on the iPad. But, thanks to these two 99 cent applications, there's a reasonable workaround.
The latest versions of Camera for iPad and CAMERA-A let you use your iPhone's camera to record images directly to your iPad. I've bought and tested both applications, and they work as advertised. Here's a little overview of each.
Camera for iPad (Updated for Version 1.1)
I downloaded the app from iTunes and installed on both my iPad and iPhone 3GS. Launch the app on both devices (make sure that Bluetooth is on or a WiFi network is available). The apps will look for the companion device and connect. Now point your iPhone camera anywhere, and tap the "Take a Photo" button on the iPad or on the iPhone. The picture is recorded and transferred to the iPad. This process takes less time when you're using WiFi communication.
Once the processing is finished, you'll have a 2048x1536 image in your Photos App on the iPad. That's more than enough resolution for a full screen image, and the pictures actually look pretty good.
Pros: Affordable, good picture quality, easy to use, has quality settings for picture, allows either Bluetooth or WiFi connectivity, can take pictures from either iPhone or iPad. Cons: Virtually none.
CAMERA-A
You pay your 99 cents and download CAMERA-A from the App Store, then download its free companion software, CAMERA-B for your iPhone. Launch both apps and they will search for each other. After a few seconds, they connect, and you tap the camera icon on the iPad to take a picture. After the photo snaps, you're asked if you want to save it. Tap "Accept" and the image is instantly added to your Photos App on the iPad.
CAMERA-A has the advantage of saving instantly compared to the transfer time with Camera for iPad. CAMERA-A also has a zoom slider on the iPad that allows you to zoom in as much a 6x. You can zoom in and out on the fly to help you compose the shot. The result is a 1004x768 image that displays nicely full screen on the iPad.
Pros: Affordable, good picture quality, easy to use, fast transfer times, zoom slider. Cons: No shutter button on the iPhone, lower resolution images than with Camera for iPad.
The Bottom Line
Both Camera for iPad and CAMERA-A work as advertised and let you record images directly to the iPad. CAMERA-A transfers faster, but provides a smaller file. Camera for iPad maximizes the resolution of your iPhone camera, and has a more advanced feature set. Both apps allow you to save the images to your iPhone too.
Since the Version 1.1 update for Camera for iPad, it is my preferred app.
More iPad Articles
Bluetooth Keyboard and iPad - A Powerful Combination
Coolest iPad Apps for Photogs? Keynote and CameraBag
"iPad for Photographers" - Digital Photography Podcast 219
---
-
---