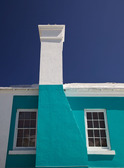 Nothing like a trip to Bermuda to help you get your gear organized and ready for travel. On this recent adventure, I fit all of my camera and computer gear into a Lowepro Fastpack 250
bag. For the most part, I was totally prepared. But I learned a few things along the way. I explain all in this week's podcast.
---
St. George's House, Bermuda. Photo by Derrick Story with a Canon 5D Mark II and a 24-105mm Canon L zoom. Polarizing filter. Click on image to enlarge.
---
Listen to the Podcast
You can also download the podcast here (31 minutes). Or better yet, subscribe to the podcast in iTunes. You can support this podcast by purchasing the TDS iPhone App from the Apple App Store.
Monthly Photo Assignment
Fire is the May 2010 Photo Assignment. You can read more about how to submit on our Member Participation page. Deadline for entry is May 31, 2010.
Simone Brogini was the "Sizzlpix Pick of the Month" for Photo Assignment 49. The prize is an 11"x14" Sizzlpix of the winning photograph. Congratulations Simone!
More Ways to Participate
Want to share photos and talk with other members in our virtual camera club? Check out our Flickr Public Group. It's a blast!
---
-
---
Podcast Sponsors
Red River Paper -- Try the $7.99 Sample Kit.
Make Your Photos Sizzle with Color! -- SizzlPix is like High Definition TV for your photography.
---
Technorati Tags: digital photography, podcast, technique, Technology, The Digital Story, tips