On of the pieces of good news about the Sony Alpha NEX-5 is that it accepts SDHC cards in addition to Memory Sticks. I wasn't aware of that at first, but I am so happy that Sony is giving us this option. In addition to general convenience, it allows us to use Eye-Fi cards in the NEX-5 so we can transport images directly from the camera to a computer or online photo site. (I just tested this capability with the Eye-Fi Pro X2 8GB SDHC Card
.)
In fact, if you scroll down to the bottom of the Setup menu on the NEX-5, you'll see that you have an on/off switch for the Eye-Fi card.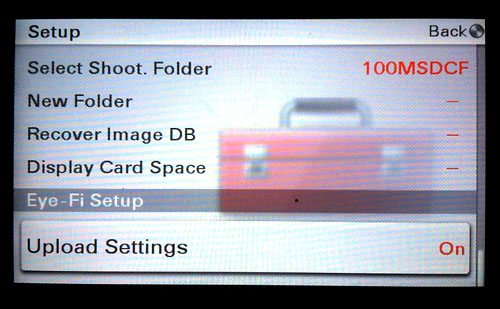 You can turn on and off the wireless function on the Eye-Fi card via a menu setting on the Sony NEX-5.
Now I have complete control over the Eye-Fi card. Plus, when it's uploading, there's an icon on the Sony LCD that lets me know the status of the card: sending images, idle, or off.
I love this integration and would like to see it on more cameras.
More on the Sony NEX-5
Sweep Panorama Is Impressive on Sony NEX-5
"Sony NEX-5: Where Does it Fit?" - Digital Photography Podcast 228
Viewing Sony's NEX-5 AVCHD Movies on a Mac
---
-
---