A good night's sleep is just as important on location as at home. Regardless if you're camping outdoors or crashing on a friend's living room floor, the REI Self Inflating Camp Bed is so comfortable that you'll forget you're on the road.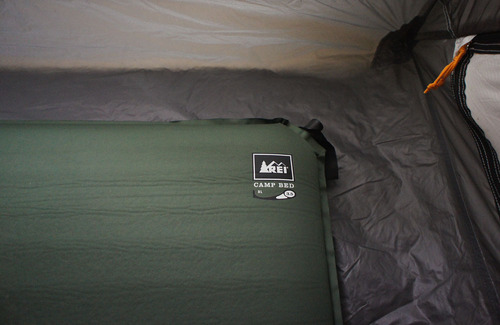 Self-inflating truly works. No pumps or compressors are required. Simply unroll the mat, open both air valves, and watch as the mattress expands to over 3" in thickness. It seems like magic. But it works thanks to the foam inside the 150-denier polyester shell expanding and drawing in air. And unless you need a very firm sleeping surface and blow additional air in through the valves, the Camp Bed does all the work. Another advantage with the foam interior is increased insulation from the cold ground. This mattress has an R-Value of 7, which is excellent protection. Combined with cloth-like top cover, you'll feel at home just about anywhere.
The downside? The Camp Bed weighs-in a tad over 6.5 lbs. That's too heavy for backpacking, but excellent for car camping. And because of the foam interior, it doesn't roll up as compactly as less luxurious mats. The regular size (72" long by 25" wide) sells for $99 at REI. The X-Large version, which is the model I tested, is 78" long by 29" wide. It sells for $109.
And how comfortable is the REI Camp Bed? Let me put it this way: I can sleep on my side and not feel the ground on my hips or shoulders. When's the last time you could do that camping?
More tips and gear reviews in our new Outdoor Life section
If you enjoy working and playing in nature, take a look at our new Outdoor Life section on The Digital Story. And if you forget the link, just click on Outdoor Life in the top navigation bar on the site. You can also contribute your own reviews of gear by sending them to me.
---
-
---