When I work with the iPad, I want to work fast. Transferring images from my Canon PowerShot S90, even with the very cool Camera Connection Kit, takes longer than I want for blogs and social networking posts. Fortunately now, using the Eye-Fi Pro X2 WiFi SD Card
, and a nifty application on the iPad called ShutterSnitch, I can send images directly from my camera to the iPad in about 3 seconds.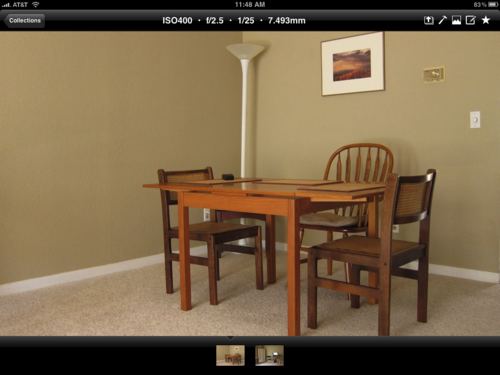 iPad image downloaded wirelessly from an Eye-Fi card using ShutterSnitch. Click for larger image.
I've been following this story since the initial release of ShutterSnitch, and have even exchanged emails with the developer. I'm just now writing about the application because I feel it's finally easy enough for most users to set up. Quite frankly, in the past it was too dificult. Now, as of version 1.1.6, all you have to do is this:
Set up your Eye-Fi Card - Make sure the wireless network you'll be using is registered with the card using Eye-Fi Center. Also make sure that "Public Hotspots" and "Relayed Transfer" is turned off.
Set up ShutterSnitch - Click on the Options button and choose "Set up Eye-Fi Access." You'll need your Eye-Fi user name and password.
Create a new Collection in ShutterSnitch - You have to be within a Collection to receive photos from the Eye-Fi card.
Take a picture - Within a few seconds ShutterSnitch will download it to the iPad.
Once the photo is on your iPad, you can send it via email, add star ratings to organize within the Collection, export to your Photos album, send up to Flickr, and more. The images sent via email were full size. Nice.
ShutterSnitch is available in the iTunes App Store for $8. And I'm happy to recommend it.
More iPad Articles
How to Create and Deliver Content for the iPad
Acme Made iPad Cases for Style and Protection
Will the iPad Squish my Photos?
Bluetooth Keyboard and iPad - A Powerful Combination
Turn Your iPad into a Live Camera
Lowepro Classified 160 AW is Perfect Bag for iPad Toting Photographers
Coolest iPad Apps for Photogs? Keynote and CameraBag
"iPad for Photographers" - Digital Photography Podcast 219
---