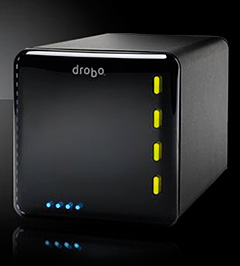 Back in September 2009, I published Drobo Field Test - 18 Months Later. At that point, things were going along pretty good for me and my robotic backup device.
Then, a couple weeks ago, I wanted to take advantage of one of Drobo's most touted features: increase its capacity by replacing a 500 GB hard drive with a 1 TB hard drive. I watched the video on the Drobo site about how easy this procedure was, then added a Hitachi 1 TB, 7200 rpm, SATA 3.0 drive in the bottom bay. For three days Drobo churned away incorporating the new drive into my array.
At the end of the third day, it showed increased capacity on the Drobo Dashboard, but I continued to get a "data is at risk" message with orange and green blinking lights. I restarted everything, and still, the same situation. Then a new twist, Drobo would dismount itself thereby prompting a new error by my Snow Leopard Mac.
Because Drobo can sometimes work things out for itself, I let it be for a couple days. But nothing improved. So I thought I would shut everything down, then put the original 500 GB drive back in the bottom bay, and at least get back to where I was before.
Three more days passed. More grinding. And in the end, Drobo decided it didn't like that hard drive anymore either. So I swapped drives again, thinking that maybe this time it would accept the new 1 TB drive.
Three more days passed. Nope.
So, I shut down Drobo, removed the drive from the bottom bay, and restarted. Now that the bottom bay is empty, it seems much happier, except it tells me that it's full. And therefore my data is still at risk. So I'm going to offload 100 GBs or so to another hard drive, give Drobo a little breathing room, then figure out what to do.
Bottom line: I haven't lost any data, so Drobo delivered on that promise. But, it seems like I no longer have an expandable drive either. This means that I'm less in love with Drobo than before. And it looks like I'm going to look for another backup solution.
If you have comments or tips about this, please post here. I'd like to hear your thoughts.
---