One of the missing links in the iPad photography workflow has been the ability to add copyright and other IPTC data to your images before sending them along via the Internet. Now, thanks to a new app by Cyril Godefroy called Meta Editor, you can add tags, author name, copyright, captions, and even geodata to any image that resides on your iPad.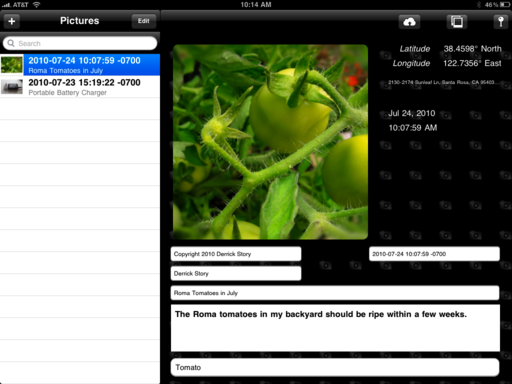 Click on image for larger size.
I've add this application to my existing iPad workflow that uses an Eye-Fi card and ShutterSnitch to wirelessly move the images from my Canon PowerShot S90
to the iPad. I will sometimes touch them up using Photogene. And if I'm going to share them online, I open the shots in Meta Editor to add my IPTC data.
In the screenshot above, you can see the Meta Editor interface and the information I added to the Roma Tomato shot. Then, in the screenshot below, you see the same data in the Information dialog box for Preview on the Mac. All the data traveled with the image.
And if you take a look at the Flickr version that was uploaded directly from the iPad, you'll see that "Tomato" was added as a Flickr tag too. Very nice!
Meta Editor is available in the App Store for $9.99. It still has a few rough edges that I'm sure will be smoothed out soon by the developer. But in the meantime, it does work well, and I haven't found anything else like it for the iPad.
I recommend Meta Editor to iPad toting photographers who need to add IPTC data to their images.
More iPad Articles
Eye-Fi Card, iPad, and ShutterSnitch for Wireless Transfer
How to Create and Deliver Content for the iPad
Acme Made iPad Cases for Style and Protection
Will the iPad Squish my Photos?
Bluetooth Keyboard and iPad - A Powerful Combination
Turn Your iPad into a Live Camera
Lowepro Classified 160 AW is Perfect Bag for iPad Toting Photographers
Coolest iPad Apps for Photogs? Keynote and CameraBag
"iPad for Photographers" - Digital Photography Podcast 219
---