The Olympus ED 14-150mm f/4.0-5.6 micro Four Thirds Lens
($600) is a compact zoom that provides an effective focal length of 28mm to 300mm (on micro four thirds, you double the numbers) for Olympus PEN cameras. And after shooting with this lens for nearly a month, my opinion is: if you own an E-P2 or E-PL1 camera, you need to get this zoom. E-P1 owners might be tempted too, even though they don't have the electronic viewfinder option that I think is necessary for this zoom. More on that later.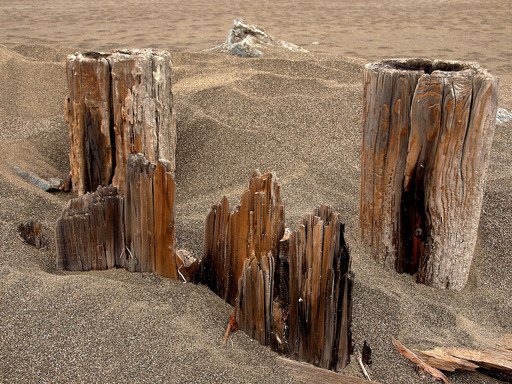 Beach wood shot at 25mm (50mm equivalent) on Olympus 14-150mm lens mounted on an E-PL1 body. Picture processed normally in Aperture 3 with exposure, color, and output sharpening. Click to enlarge image.
Many PEN owners are making due with the 14-45mm kit lens (er, I mean the 14-42mm zoom) that they originally purchased with the camera. It's a good enough lens, for sure, but it does not have the reach or the focusing speed of the 14-150mm. And in terms of light gathering ability, the 14-42mm is f/3.5-5.6, while the 14-150mm is f/4-5.6. So you gain a lot with the newer zoom and give up hardly nothing.
Lens Performance in the Lab
There's a good lab test of the lens over at SLR Gear.com, and they conclude that: "For what it offers, the Olympus 14-150mm Æ'/4-5.6 is a very good lens, not the sharpest we've tested but certainly very good for a superzoom. It's marred by some high chromatic aberration at certain focal lengths, but for the wide range of focal lengths the lens offers, it's probably a small price to pay for the all-in-one versatility." In the field however, I found very few flaws that annoyed me. And I think that's sometimes the difference between a lab test and real life shooting.
Lens Performance in the Field
I've posted the results from one of my field tests on the TDS Flickr site. I treated these images like a do any real world test in that I made exposure adjustments, added output sharpening, etc. to make the image look the way I want. My question always is: "Will this lens let me create the type of images I want using my normal workflow?" The answer in this case is "Yes."
Most Important Observations
Here's what jumped out at me while shooting with with Olympus 14-150mm zoom:
The in-camera stabilization of the E-PL1 allowed me to shoot handheld at 300mm (150mm on the lens) and get sharp images. I think this is a big deal for travel photographers, photo journalists, and enthusiasts.
There was some slight vignetting at the longer focal lengths. I was not using a lens hood or protection filter.
Sharpness was excellent at all focal lengths with the lens stopped down to the midrange apertures. Sharpness was good at the extreme apertures.
This is not a lens I would recommend for Panasonic shooters (unfortunately), because it needs image stabilization, and for Olympus, that is built into the camera, not the lens. IS on Olympus cameras was terrific.
Color fidelity was excellent, chromatic flaws were minor. I was able to create some color fringing in high-contrast scenes at the extreme ends of the zoom range.
This is a terrific lens for shooting video. You can zoom while recording too.
Close up performance was good for this type of all-in-one lens. I have a few samples on the TDS Flickr site.
I highly recommend that you get the Olympus VF-2 Electronic Viewfinder ($250) for working in extreme lighting conditions. I think it is too difficult to accurately compose with the 14-150mm lens with just the LCD screen on the back of the camera.
Pros
Light, compact, quality zoom lens that has an effective focal length of 28-300mm.
Focusing is fast and sure.
Can be the only zoom lens that most enthusiasts ever need on their PENs.
Cons
Realistically, you also need the VF-2 Electronic Viewfinder to get the most out of this zoom. So total price becomes $600+$250=$850 if you don't already have the viewfinder.
E-P1 owners can't enjoy the full pleasure of this lens without the electronic viewfinder that isn't available for their camera.
Bottom Line
If you love shooting with your Olympus PEN camera, you're going to want this lens. It is all you need for most situations.
---
-