The minute I saw the "swing out" Vari-Angle 3-inch Clear View LCD screen with 1,040,000 dot/VGA resolution (plus anti-reflective and smudge-resistant coatings), I knew the new Canon 60D was built for video recording as much as stills.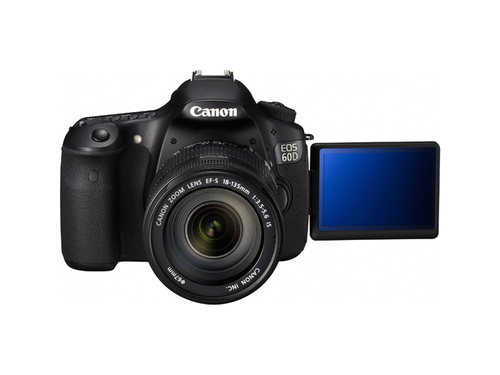 Speaking of movie making, the EOS 60D features Full HD video capture at 1920 x 1080 resolution with selectable frame rates of 24p, 25p or 30p. Plus, according to the Canon press release, "The Canon EOS 60D allows for three video recording modes - Full HD and HD in a 16:9 aspect ratio and Standard Definition (SD) in a 4:3 aspect ratio, all at selectable frame rates. The EOS 60D Digital SLR camera will record Full HD at 1920 x 1080 pixels in selectable frame rates of 24p (23.976), 25p, or 30p (29.97); 720p HD recording at 50p or 60p (59.94) and SD video at frame rates of 50p or 60p (59.94). The EOS 60D features a dedicated button to initiate live view for both video and still shooting. Once engaged, the same dedicated button will start and stop video recording."
The feature that I didn't see in the press release, but one that I'm sure is there, is an external mic jack. Without that, the rest really doesn't make a difference.
The 60D has some other cool stuff, such as a built in Speedlite transmitter. But I'll save that for when I can get more details.
---