I did it. I got on a plane and flew far away leaving my laptop at home. For eight days I was totally laptopless.
Instead, I had a 3G iPad with a Camera Connection Kit. A week later, I had shot more than 600 photos, posted to Flickr, and managed to refresh the blog. And truth be told, I never felt better.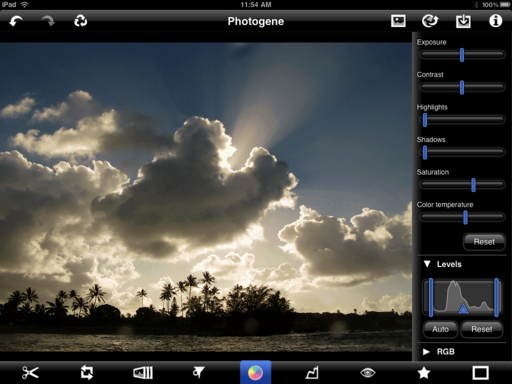 Editing a photo on the iPad using Photogene.
Here are my top 5 reasons why an iPad is more fun for vacation:
Great for Flying. TSA does not consider an iPad a computer. So you don't have to take it out of your backpack when going through airport security. Sweet. Plus, once I'm on the plane, I can actually use the iPad, even in economy seating.

Less Weight. My MacBook Pro weighs over 6 pounds. The iPad is tips the scale at 1.5.

Easier Internet. The hotel wanted $15 a night for an Internet cable. Plus, I'd still have to bring my AirPort Express to create a WiFi network. I said no to both. I used my 3G connectivity with no drama. It costs me $15 a month for 250 MBs of data. I used 170 MBs during the week at the hotel. In other words, one week of Internet for the price of one day.

No Unnecessary Accessories. I used the Camera Connection Kit, power adapter, and two cords. That was it. Their total weight is less than the power adapter for the MacBook Pro.
Great Software. For photo editing, I tapped the power of Photogene and TiltShiftGen. Wonderful. For navigation, Maps works great. Plus, the iPad is so light you can take it anywhere, yet has GPS and Internet connectivity. I never had a problem finding where I wanted to go or how to get there.
So if the main goal of your trip is to have fun, and not work, then I highly recommend the iPad. Together, we had a great time.
---