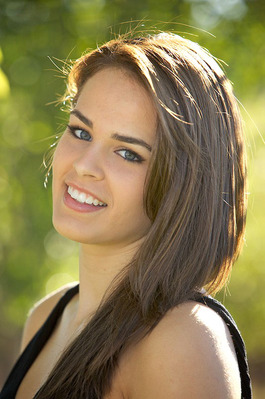 When you move the flash off the camera, it's easy to create natural-looking outdoor portraits. I like this technique because it lets me use the sun for rim lighting while I get to control the illumination of the face with my strobe.
In this example, I used a Canon Speedlite 580EX
on a light stand triggered by a Canon STE2 Speedlite Transmitter
that was mounted in the hotshoe of a Canon EOS 5D Mark II
with a 70-200mm f/2.8 L zoom. I dialed the flash exposure back to -1.5 and the ambient exposure to -1.
---
Senior portrait shot on location using only the sun and a single off-camera flash for lighting. Click on image for larger version. Photo by Derrick Story.
I didn't use any diffusers on the flash itself, although I do angle it slightly upward and pull up the bounce flash card to slightly modify the light. I kept the 5D Mark II on a tripod so I could interact easily with my subject. The great thing about this set up is that I can work the shoot by myself without requiring assistants to hold reflectors, etc.
If you want to learn more about getting pro results from a single flash, be sure to check out my Off Camera Flash title on Lynda.com. I show you all sorts of helpful lighting techniques that are especially good for portraits.
More Off Camera Flash Tutorials
Off Camera Flash - Basic Techniques for Pro Results
Light Modifiers for Off Camera Flash
Off Camera Flash - The Single Light Portrait
"More Off Camera Flash" - Digital Photography Podcast 233